Shibaura SXIII Highlights
Introducing the all-new ECSXIII all-electric injection molding machine with enhanced versatility and performance, along with a streamlined frame design, significantly faster injection speeds and new features making your investment work harder and smarter. Extremely flexible and versatile, the new ECSXIII is ideal for virtually all molding applications, from automotive and aerospace, to packaging, medical and more.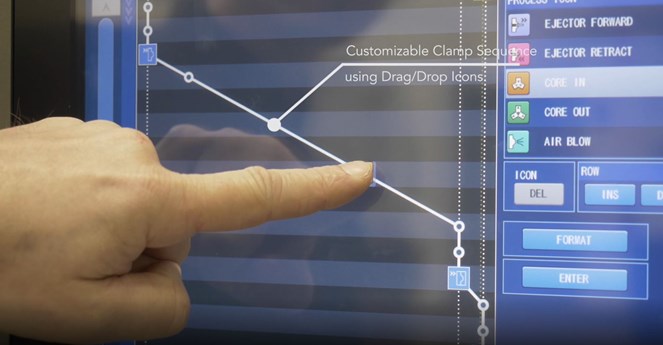 Shibaura Clamp Customization
One of the steps to get the best results from injection molding requires the operator to properly set up the clamping sequence. Without an intuitive and visual experience, setting this up can be a time-consuming and difficult task. In order to address this issue, Shibaura Machine offers the Customizable Clamp Sequence feature, now available on their V70 controller.
Shibaura V70 Highlights
With the new Injectvisor V70, you get a controller designed with the smart factory in mind, one that's capable of integrating with auxiliary equipment via OPC-UA communication. Packed with new tools for speeding up mold set ups, optimizing cycle times, analyzing part defects, troubleshooting molding defects and more, giving you a faster payback on your machinery investment. On-screen help functions for inexperienced molders to assist with setting a new tool as well as diagnosing and overcoming common processing defects.